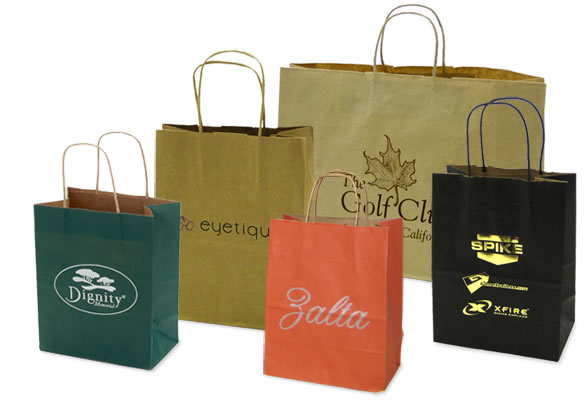 Kraft Handle Bags
One of our most popular items is Kraft paper handle bags in white Kraft, brown Kraft, and color tinted. Every bag comes with the same enduring quality, structurally sound design, and is made from high density recycled materials. Whether choosing a tinted bag, brown bag, or white bag, rest assured each retains the same durability and tasteful appearance.
White Kraft Handle Bags
Custom white paper bags are available with a multitude of printing options, from specialized logos to custom mottos and messages, and in a plethora of colors. White Kraft handle bags are very useful and efficient for containing purchased items from a variety of retailers, restaurateurs, grocers, and more.
Kraft handle bags in white Kraft, brown Kraft, and color tinted are all terrific options, but the traditional white Kraft handle bags make for a clean, chic look that never goes out of style.
Here are a few samples of our white kraft shopping bags:
Kraft Tint Bags
If you are in the market for something a little more noticeable than a white bag, Hawaii custom color shopping bags may be just the thing. These bags are made from white or brown Kraft paper which is tinted to the color of choice, while maintaining the ability to also have a logo or message printed on the front and/or back of the bags.
In some cases, foil stamps are applied in place of logo printing, creating a shiny, flashy air that gets a company noticed. Although this option is not required, it is certainly good to have additional choices when determining the best appearance for a company branded bag. Hawaii Kraft tint bags are always a superior option to aid advertisement of a company.
Having the availability of Kraft handle bags in white Kraft, brown Kraft, and color tinted, any company has the opportunity to extend branding and marketing in an elegant, yet simple manner.
Here is what our kraft tint bags look like: